National and local resources for those recovering from the storm
Annunciation Food Outreach Page.
The Christian Sharing Center – Unused hurricane supplies – see their home page for a complete list of needs and the additional services that they are offering.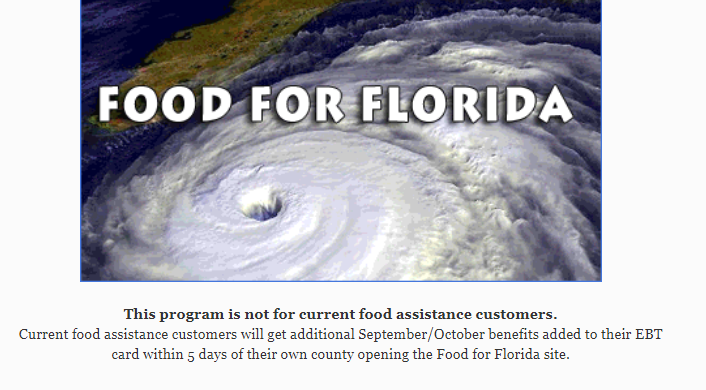 Seminole County Emergency Information
https://www.disasterassistance.gov/get-assistance/assistance-by-category
Catholic Charities of Central Florida
---
The Department has begun to initiate the Food For Florida (D-SNAP) program throughout the State. Visit: www.dcf.state.fl.us/programs/access/fff/ or…just visit www.myflfamilies.com open the drop down menu for Services and select ACCESS Florida…scroll down and on the left select Food For Florida.
Revisit this site daily for updated information.
Who qualifies?  To qualify for the Food for Florida Disaster Food Assistance program, applicants must have lived or worked in one of the counties declared for FEMA Individual Assistance on September 5, and not be receiving food assistance through the regular Food Assistance Program. Additionally, eligible individuals and families must have suffered a disaster-related loss, such as damage to their homes or self-employment property, loss of food, reduction or loss of income, or have incurred other disaster related expenses. Applicants must also be financially eligible. DCF will provide or mail Electronic Benefits Transfer cards to eligible individuals and families to use at authorized USDA food retailers. The program counts only income and expenses from September 5 through October 4, 2017.
---
Ways that you can help:
OFFICIAL SVdPUSA Hygiene Kit Drive
The Society of St. Vincent de Paul is calling on all members and volunteers to help disaster victims! Society St. Vincent de Paul's Disaster Services responds to disasters such as floods, wildfires, tornadoes and other events throughout the United States. Vincentians compassionately serve victims of disasters with immediate relief as well as long-term services. One urgent need for hurricane survivors is for personal hygiene kits. These kits are especially important for displaced persons trying to put their lives back together after having lost nearly everything. If every Vincentian purchased ONE kit, we would have enough kits for almost 100,000 individuals!
These hygiene kits cost less than $7 each and include a full bar of soap, a soap holder, and a 4-ounce bottle of shampoo and other items. The contents of these kits are tailored to the needs of the age group and gender. Also, you can purchase one, two, or a few – as many kits as you would like to purchase – you do not need to purchase full cases. All hygiene kits purchased will be shipped directly to the designated SVdP disaster relief location for distribution to people in need.
Thank you for your support and generosity!