Sacrament of Confirmation
Come Holy Spirit, fill the hearts of your faithful and kindle in them the fire of your love. Send forth your Spirit and they shall be created. And You shall renew the face of the earth.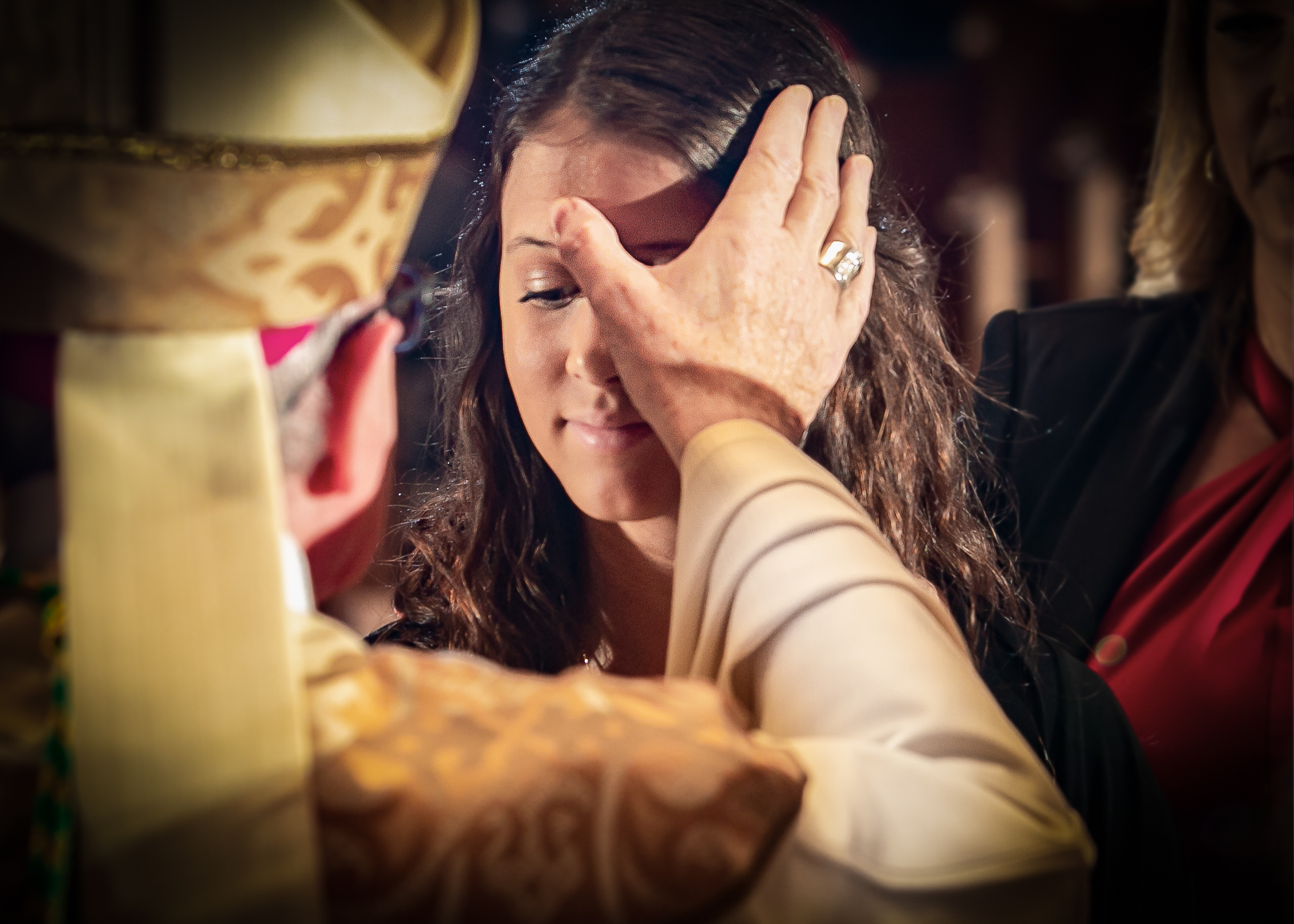 8th Grade
Confirmation preparation begins in 8th grade. In addition to an 8th grade Parish Catechesis Program (Family or Traditional) or ACA Religion Class, those preparing to receive the Sacrament must attend two Formation Events. One in the Fall and one in the Spring. The events will take place after the 5:30pm Sunday Mass in the Nazareth Center. Dinner will be provided.
Sunday, October 18, 2020 – 6:45pm – 8:30pm (Due to Covid-19 this will be a virtual lesson. Details TBA)
Sunday, February 28, 2021 – 6:45pm – 8:30pm
Parish Catechesis Program participants will have an 8th grade retreat day offered in late Spring 2021. Details to follow. ACA students will have an 8th grade retreat facilitated by the Academy.
9th Grade
9th grade Confirmation Prep consists of an overnight retreat at San Pedro Center and monthly theme nights following the 5:30pm Mass on Sundays. Meals will be provided. Confirmation candidates will participate in a group service project with their peers that connects themes explored in Confirmation Prep to the lived experience of the Faith. Due to the pandemic, we will begin this year virtually with the intention of transitioning to in-person theme nights as the year progresses. In lieu of an overnight retreat, a virtual retreat or day of reflection may be offered. Details to be determined in late August 2020.  
San Pedro Center Retreat Dates (Candidates must choose one weekend)     *We continue to monitor the effects of the pandemic and assess the feasibility of an overnight retreat. 
| | |
| --- | --- |
| September 19 & 20, 2020    | San Pedro Center |
| February 6 & 7, 2021 | San Pedro Center  |
| | |
Confirmation Prep Theme Nights – These will be virtual until further notice. New lessons will be uploaded once a month beginning the week of September 28th.
September – TBA
October – TBA
November  – TBA
Sunday, January 10 
Sunday, March 7th
Confirmation – Friday, April 30, 2021 @5pm  &  7pm
Get In Touch
Do you have questions? We look forward to speaking with you. Use the email or phone numbers listed below.  Thank you!