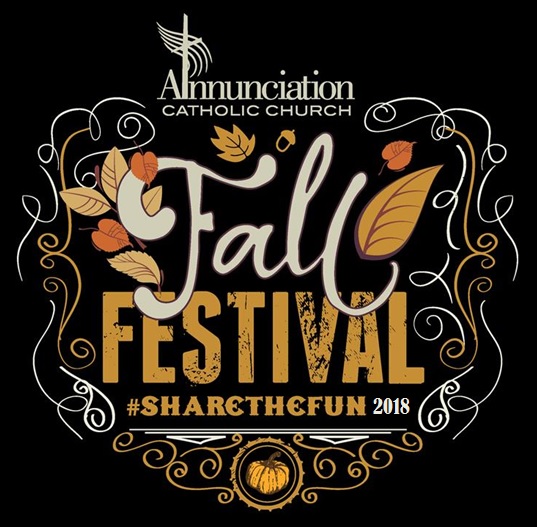 Annunciation Fall Festival!
November 9, 10 and 11, 2018
Friday: 6pm to 10pm
Saturday: 4pm to 10pm
Sunday: 1pm to 7pm
Quick Facts:
The Fall Festival features: live entertainment, rides and games, festival food favorites, crafts, live and silent auction and raffle!
Save the date: Volunteer sign-up weekend: October 20-21.
We look forward to seeing you there!
Jewelry Items Needed
It's time to clean out your jewelry box and consider donating unwanted jewelry to the Fall Festival. In addition to costume jewelry, we will be happy to take broken gold and silver jewelry, one earring, etc. Thank you for your generosity and participation. For more information contact Sandy at 407-878-7846.
Grandma's Attic
This is an area of the Festival dedicated to selling silver items, cut glass & crystal pieces, lovely figurines and porcelain dishes or vases. Novelties and collectibles are very popular too. We will clean and polish. No clothes please. Contact Laurel at 407-617-2850. Please donate by October 15th. Thank you!
Sponsors
Place your business name in front thousands of people that come through our campus over the Fall Festival weekend!  Booth sponsorships are available starting at $500. Please contact Marna Krot at mbkrotgmail.com  Click Here to view the 2018 Sponsorship Packet
Fall Festival Auction
It is time to start thinking about auction item donations for our Fall Festival. Our Auction needs your boat, car, jet ski, motor cycle, scooter, canoe, kayak, sports tickets, gift cards and certificates for services or merchandise and other items. The auction is a major part of our fund raising efforts at the Festival and your donations are greatly appreciated! Please contact Greg Fox, Auction Coordinator at 407-539-7899 or email: fivefoxes@earthlink.net
Check out some of our Auction items so far:
Orthodontia By Our Super Sponsor Wiewiora & Dunn
St. Lucia Trip / St. James Club / Morgan Bay / 3 Rooms / 6 People (airfare not included)
Mercedes Benz Convertible (1982)
Seven Beach Condo Weeks
John Hardy Ladies Necklace / Earrings
TWO Freezers Full Of Meat (An Auction Standard)
Golf Lessons For Kids At Heathrow / Courtesy: Jeff Jones
Wine Party for 12 By PRP Wine International
Dinner With The Priests! (At Christner's Steak & Lobster In Orlando)
Gulf Coast Timeshare Week For 7 Days / 12-14-18
Camping World Bowl Tickets / December 28th
Gators Team Merchandise
Seminoles Team Merchandise
FastSigns: Promotional / Advertising Package
Lunch for SIX With ESPN's Lee Corso At Buffalo Wild Wings