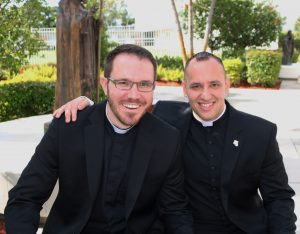 BOCA RATON | As song and prayer filled the church of St. Joan of Arc in Boca Raton, 15 men laid prostrate, laying down their lives before the altar of Jesus Christ. The Ordination to the transitional diaconate, which took place on Saturday, April 6, is the next step to the priesthood for these men, including Adam Marchese and Thomas Pringle, seminarians for the Diocese of Orlando. For Marchese, the impact of the day struck him right away.
"As soon as I walked through the doors at St. Joan of Arc, I saw an old professor from the college seminary and I broke down sobbing uncontrollably, said Marchese. "Seeing him made me reflect back on the journey. God has really been good to me and blessed me every step of the way."
Click here to read full article on the Diocese of Orlando website.