Sunday School (Nursery – Kindergarten)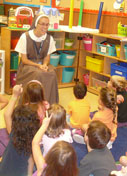 For our youngest parishioners, we offer Sunday School on most Sundays during the 10:00 am Mass.  Our nursery is available for children 6 months old – 23 months old as a safe, loving childcare center.  As child get older, beginning at 2 years old we introduce elements of Faith Formation with Bible Stories, faith based activities and crafts and conclude with snack and playtime.
Our Kindergarten Faith Formation class are also offered during 10:00 am Mass each Sunday.
Calendar
| | |
| --- | --- |
| January 15, 2017 | Sunday School Classes Resume  |
| January 22, 2017 | Regular Classes |
| January 29, 2017  | No Classes due to Pre-School Open House  |
| February 12, 2017 | Regular Classes |
| February 19, 2017  | No Classes due to President's Weekend  |
| February 26,2017 | Regular Classes |
| March 5, 2017 | Regular Classes |
| March 12, 2017 | Regular Classes |
| March 19,  2017  | No Classes due to Spring Break  |
| March 26, 2017  | No Classes due to Spring Break  |
| April 2, 2017 | Regular Classes |
| April 9, 2017  | Regular Classes – Last Class/ Easter Party  |
| | |