Parish Pilgrimage to the Shrine of the Most Blessed Sacrament in Alabama
Feb. 20th – 23rd, 2020 – We leave from Annunciation Catholic Church at 8am on Thursday, February 20 and return on Sunday evening, February 23rd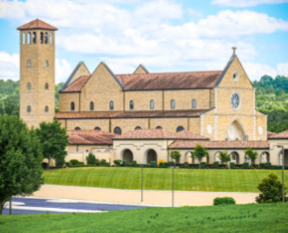 At the Shrine, we will participate in a guided tour, daily Mass and a spiritual talks by priests with opportunity for the Sacrament of  Reconciliation and a healing service before the Blessed Sacrament.
Total cost is $280 per person double occupancy  (includes bus transportation, accommodations at a Quality Inn nearby to the Shrine, daily breakfast and two lunches). Single room is an additional $120. Sr. Maria, SCTJM will be accompanying the group.
Perhaps the South's best kept secret, the Shrine was built on 400 acres of picturesque farmland in 1999. Mother Angelica, the beloved foundress of EWTN, inspired by the great Franciscan Monasteries and churches of Italy, saw that the Romanesque-Gothic architecture and breathtaking art facilitated prayer and worship. "Only the best for God."
To learn more about the Shrine, please visit http://olamshrine.com/
Registration will close on February 9th. Please click on the button below to register for the pilgrimage.