Parish Pilgrimage to the Shrine of the Most Blessed Sacrament in Alabama
Feb. 20th – 23rd, 2020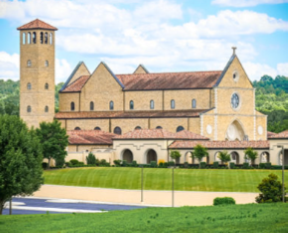 Mother Angelica (EWTN) was inspired to build "Only the Best for God" through Romanesque – Gothic architecture to facilitate prayer and worship in honoring the Real Presence of Christ in the Eucharist.
Schedule: Spiritual talks, a guided tour, daily Mass, healing service, Sacrament of Reconciliation, Divine Office; trip also to Benedictine Monastery & Ave Maria Grotto. Prices below includes bus transportation; 3 nights lodging at Quality Inn with 3 breakfasts and 2 lunches at Shrine. Double occupancy: $280 per person. Single: $400.
Departure: 8 AM near Annunciation's Grotto.  Sr Maria Teresa Acosta will accompany trip
To learn more about the Shrine, please visit http://olamshrine.com/
Please email srmaria@annunciationorlando.org if you would like to come.  We have had two cancellations.  Thank you!