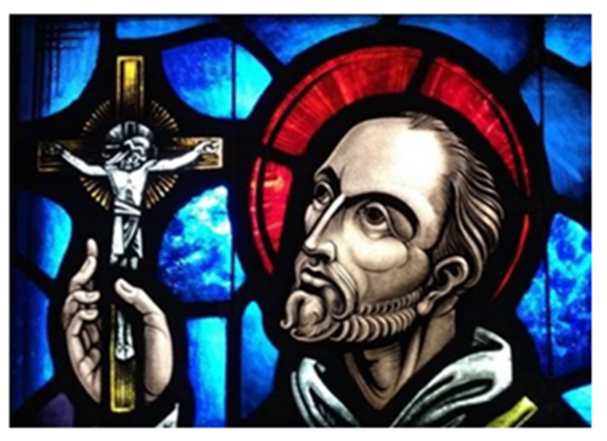 Forty Weeks: An Ignatian Path to Christ with Sacred Story Prayer
by Fr. William Watson, SJ
IGNITE YOUR FAITH
Are you ready for a challenge and willing to commit your time to open up to Christ? Be not afraid! Say "YES" to Christ Jesus' call to His Divine Love.
We invite you to join us on a spiritual journey of the Sacred Story: Forty Weeks – An Ignatian Path to Christ with Sacred Story Prayer. The Sacred Story Prayer is rooted in St. Ignatius' Examination of Conscience revitalized for the Third Millennium.
If like Ignatius we are willing to take this journey and travel deep into our hearts, we will "find God in us, around us in everything, to know His will and put it into practice." Learn to nurture a deep intimate personal relationship with the Lord Christ Jesus, open your mind and heart to His transforming Presence – and live a full and authentic life.

Evenings:  Mondays from 7:00 – 9:00pm – VIRTUAL                                                Start date: September 20, 2021
Mornings: Wednesdays from 10:00am – 12noon – IN PERSON                        Start date: September 22, 2021
Registrants to purchase the 2 books by Fr. William Watson, SJ (available at Amazon)
Note: Limited copies of the Forty Weeks book are available for free to registrants upon request. Please contact Sonia Canlas at sacredstory40@gmail.com
Forty Weeks – An Ignatian Path to Christ With Sacred Story Prayer
Sacred Story Affirmations – Meditations on Discernment of Spirits
Virtual conferencing equipment: Either a laptop/desktop computer, smartphone, or tablet. An internet connection. Speakers, a microphone, and a webcam, either built-in or attached to your computer or mobile device.  
Please scroll down to watch several videos for further information.
SACRED STORY COMMUNITY (SSC)
Congratulations! [As of July 31, 2021, Feast of St. Ignatius Loyola, Annunciation SSC (Most Blessed Mother of God)] you are one of the pioneers of the New Evangelization that St. Pope John Paul II spoke about in the beginning of his Pontificate and fostered by Pope Benedict XVI and Pope Francis. And as daughters of St. Ignatius, through the Forty Weeks journey, you are the missionary disciples the Church needs to rebuild during this challenging times.
…..Fr. William M. Watson, SJ
The Core Disciplines of the SSC (Forty Weeks journey) are the same disciplines St. Ignatius and the early Jesuits promoted for the laity and clergy alike.
Daily 15- minute Ignatian Examination of Conscience (Sacred Story Prayer)
Frequent Confession/Eucharist
Two disciplines that form the heart to the path of Spiritual Discernment.
Photo below:
SSC Commitment Ceremony Mass July 31st, Feast of St. Ignatius Loyola
Friends OF Christ and Friends IN Christ