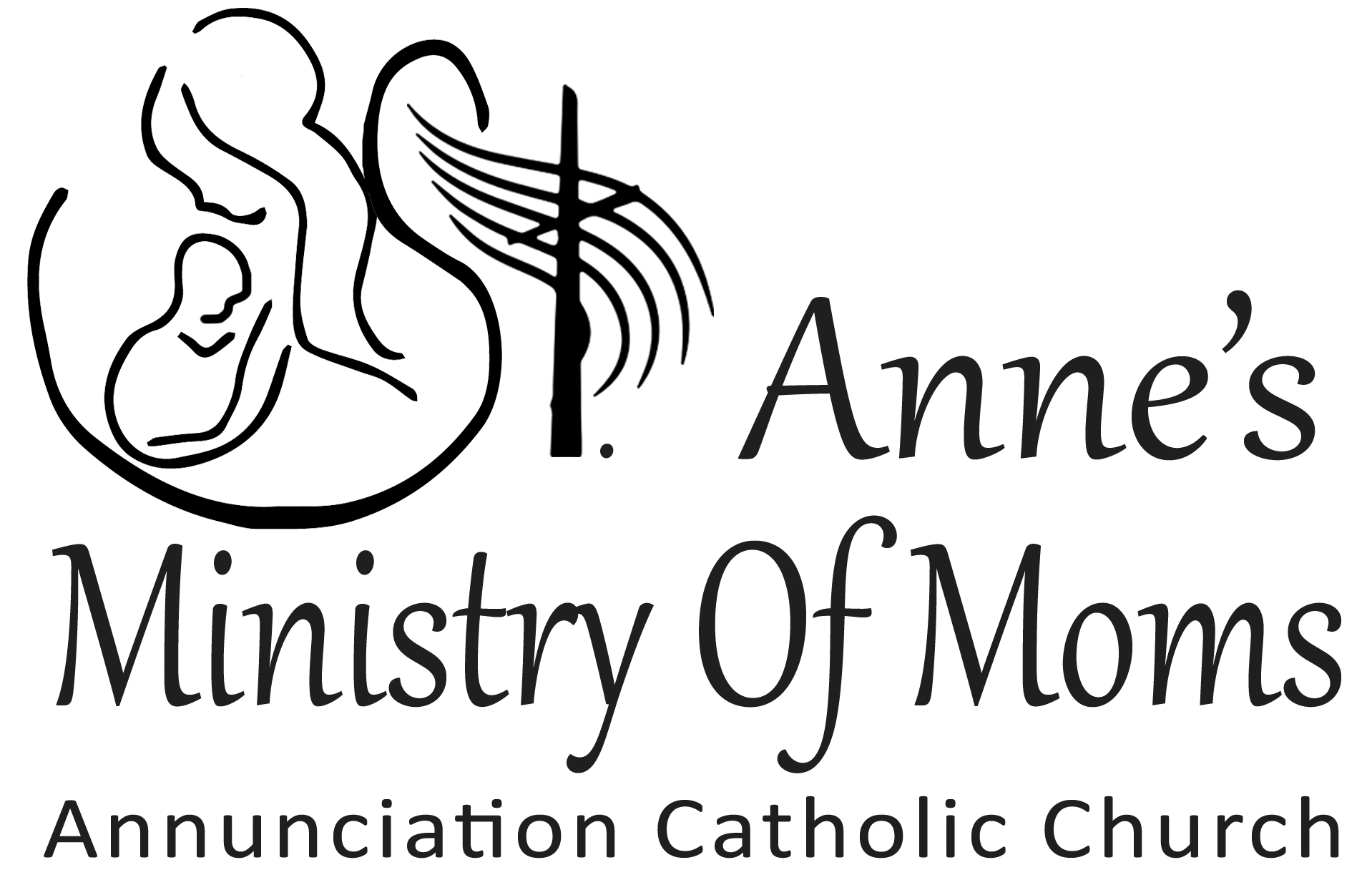 The St. Anne's Ministry of Moms welcomes all mothers of Annunciation to join us in faith and fellowship.
Mission Statement
St. Anne's Ministry of Moms is a social, spiritual, and service organization.
Our mission is to provide support and fellowship to mothers as they face the joys and challenges of motherhood. Our meetings focus on faith, parenting,  and building friendships among mothers and children.
Contact Name: Veronic Cusick
Contact E-mail: StAnnesMinistry@gmail.com
Upcoming Events
We warmly welcome all moms of the parish to join us for our spiritual, social, and service events!
Thurs April 25th @9:30-11:30am in the Nazareth Center, Ministry Meeting.  Our guest speaker will be Deputy Sheriff Amber Belanger from the Seminole County Sheriff's Office to present on Women's Self Defense.  FREE childcare is available!
Thurs. May 9th @9:30-11:30am in the Nazareth Center, Ministry Meeting.  Our guest speaker will be Chita Marasigan, a professionally trained pastry chef.  Come learn and practice a variety of cake decorating skills.  FREE childcare is available!
For more information about our events and ministry, please contact StAnnesMinistry@gmail.com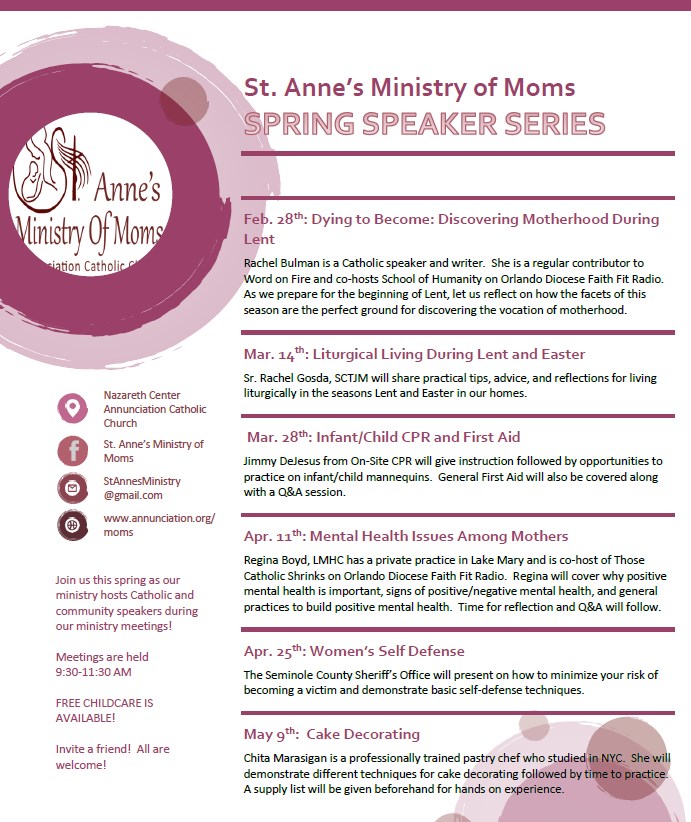 Photos from some of our recent events:
Meet our Leadership Team: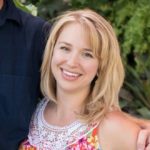 Veronica Cusick, President
My husband and I have a set of six year old twins, a four year old, and a 15 month old.  In my previous life, I was an elementary school teacher, but began staying home full time after the twins were born.  In my free time I enjoy almost any type of group fitness class, reading – especially memoirs, and being by the water with my family.  I really love the St. Anne's group because I know it can be isolating as a full time stay-at-home-mom; and this group gives me an outlet to meet other young families that value having a home centered around Christ.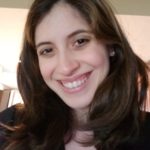 Lily Azcona, Co-Secretary
My husband and I have a 2-year-old daughter that we love and adore. I hope we will be blessed with more children in the coming years.  My husband I were born and raised Catholic. I work full time as a registered nurse and mom which can be a challenge. I enjoy painting, playing the violin and piano, and spending time with my family. My favorite saint is St. Cecilia. This is because this is the saint I used for my confirmation and because I love music. Plus, her feast day is the day right before my birthday. St. Anne's Ministry has been a great opportunity for me to meet with other Catholic moms. I want to become more involved in my faith and community.
Milena Wilczak, Co-Secretary
I am a busy wife and a mom of three wonderful little boys. Some of my favorite things to do are traveling, cooking, dancing and reading good books. I also have a full time job, which I love and as time allows I enjoy my time as photographer. I joined St. Anne's Moms Ministry because it gives me inner strength and the opportunity to meet great women who share the same faith.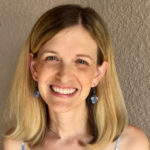 Katie McLeod, Treasurer and Life Co-Chair
My husband, Christian, and I have 4 children – three boys (7, 2, and 10 months) and a 4 year old girl. I joined St. Anne's in 2011 when we had just moved from Michigan with my oldest, who was 3 months at the time. Not knowing anyone living in Florida and being a former Catholic educator, I was so thrilled to find a group of faith-filled, supportive and fun-loving women. My life has been so enriched these last 7 years because of the ministry and the women and families involved. When I'm not running after the kids, I enjoy sewing, college football, and crafts.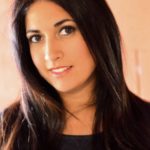 Priscilla Buckley, Hospitality Co-Chair
My husband (originally from Wisconsin) and I got married here at Annunciation Catholic Church in July 2012. We have two little boys ages 16 months and 3 1/2 years old. While owning our own business, I have been blessed with the ability to stay at home part time and also work part time. One of my favorite things is to travel. I love experiencing new places, especially with my family. I also enjoy photography and dancing 🙂
I am super excited about this year with the St. Anne's Ministry of Moms, to be able to make a difference with a focus on Christ while meeting new friends and other moms with the same values.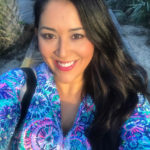 Cristina Schmoker, Hospitality Co-Chair
I was born in El Salvador and lived there until I graduated high school. I attended a small private University in Arkansas where I met my husband. After graduating I started my career as a retail general manager. With that job, we got to travel and lived in different cities. I became a stay at home mom when I found out I was pregnant. We have one soon to be 3 year old daughter. Running is one of my passions; as well as traveling. I love St Anne's ministry because it keeps me connected to women and families that share our same values.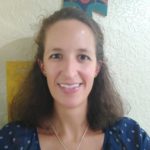 Candice Combs, Life Co-Chair
I've lived in Florida for 7 years and have been a member of Annunciation for the six years we've lived in Seminole County. I have four children from 12 years to 1 year old and along with my boys, we are active with the cub and boy scouts that are chartered with the parish. In my spare time I love to go for runs and find some quiet time to enjoy a good book. I first found out about St. Anne's while on an Emmaus retreat (which I highly recommend) and I really enjoy the fellowship with Catholic women trying to live out this life of motherhood in the world we find ourselves.
Theresa Hernandez, Focus on the Family Co-Chair
I have a six year old and a four year old.  I taught music in Seminole County Public Schools for ten years before I left to teach private piano lessons and stay home with my children.  I love spending time with my family going to local theme parks and water parks.  I've really enjoyed the sense of community St. Anne's Ministry of Moms has brought us and how we, as moms, can grow in our faith together.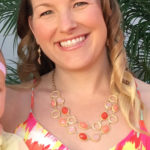 Ashley Wheeler, Focus on the Family Co-Chair
My husband and I have 2 kids, ages 5 and 1.5. I grew up in Apopka and am a full time working mom. I love the relationships my kids and I are able to build through St. Anne's Ministry as well as being able be more involved in the church and local community. I look forward to meeting new families and building relationships!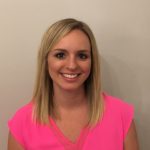 Colleen Georgi, Service Outreach Chair
My wonderful husband and I have been married for 7 years and have two sweet little boys ages 3 and 10 months. I was a registered nurse before my first son was born and now officially have the best job in the world…Mom. I was drawn to St. Anne's out of my desire to grow in my faith and to meet fellow moms that share in this. As a stay at home mom and wife I wanted to make sure God was center stage in my life and ensure that my children have a close relationship with God at an early age. I was so excited after the first Pray and Play meeting I went to. It was exactly what I was needing in my life…some time to spend with God praying the rosary with all of these wonderful moms while our children could be right there with us watching us join together in prayer while they all played together.  St. Anne's Ministry has really enriched my life.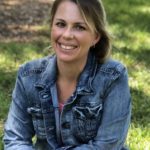 Billie Young, Social Chair
My husband and I have been blessed with three children, ages 9, 6, and 2.  Joining St. Anne's has made it easy for us to make friends that share our same beliefs and values, which is important to me.  I am a stay at home mom who never stays home.   My kids keep me busy, but when I can sneak in free time for me, I enjoy festivals, going to the theatre, visiting art museums, and listening to live music.