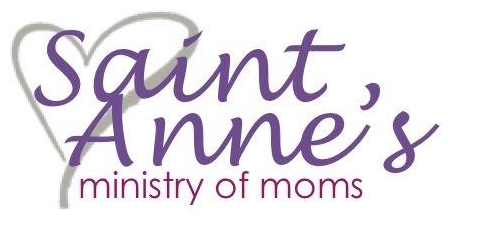 The St. Anne's Ministry of Moms welcomes all mothers of Annunciation to join us in faith and fellowship.
Mission Statement
St. Anne's Ministry of Moms is a social, spiritual, and service organization.
Our mission is to provide support and fellowship to mothers as they face the joys and challenges of motherhood. Our meetings focus on faith, parenting,  and building friendships among mothers and children.
Contact Name: Veronic Cusick, Billie Young
Contact E-mail: StAnnesMinistry@gmail.com
Upcoming Events
The St. Anne's Ministry of Moms invites all mothers of the parish to join us for some Summer Fun! Our upcoming events include:
Wed. June 6th at 9:15am at Padre Pio's Place: June Monthly Ministry Meeting. Children are always welcome! Drop your big kids off for VBS and then join us for faith and fellowship!
Mon. June 25th at 9:45am: Pizza Making and Kitchen Tour at a local restaurant for moms and kids
Wed. July 4th at 7am: Walk/Run and Stroller Friendly 5K.
Mon. July 16th at 10am: Local Grocery Store Field Trip and Picnic
For more information about our events and ministry, please contact StAnnesMinistry@gmail.com
Photos from some of our recent events: