Culture of Life
The USCCB has identified four areas imperative for fostering a Culture of Life; Prayer, Service, Advocacy and Education. Each of us has specific gifts and talents that can be applied in these areas. The Culture of Life is broad. It encompasses respecting all life and all the issues that threaten its dignity. Yes, abortion, but also euthanasia, human trafficking, immigration, welfare, prisons and capital punishment, homelessness, abuse, addiction, pornography, bullying and countless other offenses. If you feel called to serve our community in this ministry please contact Sr. Maria at srmaria@annunciationorlando.org  for more information.
Important upcoming dates
Join us for our First Friday Mass and Exposition of the Blessed Sacrament at 7pm every month in the St. Gabriel Life Center.
---
Death Penalty Prayer Vigil
Governor Scott has ordered the execution of Michael Lambrix for Thursday, October 5th at 6pm ET. Mike Lambrix was sentenced to death 33 years ago for the killing of Clarence Moore and Aleisha Bryant. The U.S. Supreme Court has ruled that Florida's non-unanimous death sentencing scheme is unconstitutional. The jury vote for death for Lambrix was not unanimous: 8-4 for Moore and 10-2 for Bryant.

This would be the 25th execution ordered by Gov. Scott, a new record for a Florida governor.

Your parish is encouraged to continue to pray for Michael Lambrix, his victims, his family, the victims' family; for all the public officials involved in this scheduled execution; for Governor Scott, that he will discern God's will and apply the teachings of our Catholic faith on the death penalty.

Please contact Governor Scott to voice your concern. Parishes are encouraged to participate in prayer services at the parish or to attend a prayer service at the execution site in Starke.

Scheduled Prayer Vigils around the Orlando Diocese:
October 4-  St. Patrick's Catholic Church, 6803 Old Hwy 441 South, Mount Dora, 32757,  at 11:00 AM.
October 5 – Church of Our Savior, 5301 N. Atlantic Avenue, Cocoa Beach, at 5:30pm.
October 5-  Our Lady of Lourdes Catholic Church, 201 University Blvd, Daytona Beach. Free Transportation will be provided from the Church at 2:00pm. A stop will be made in Palm Coast as well. Please call (386) 255-0433 if you would like to participate.
For more information on the prayer service, contact the Office of Advocacy and Justice, advocacyjustice@orlandodiocese.org or 407-658-1818 x 1086 .
---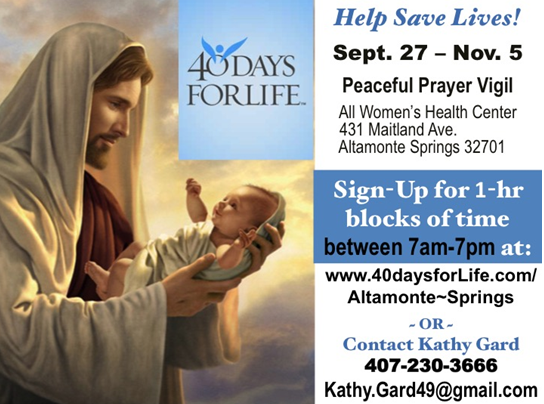 TAKE A STAND FOR LIFE
Visit: 40daysforlife.com/orlando for more information
---
Diocese of Orlando Office of Advocacy and Justice
The Meaning of Life (part of the Way, The Truth, and the Life video series)
Personhood (part of The Way, the Truth, and the Life video series)
Abortion
Updated statistics from the Florida Council of Catholic Bishops: Reported Abortions from 2006-2013
Death Penalty
The newest Culture of Life Series brochure, approved by the bishops of the Florida Province, is up on our website and ready for distribution.  This brochure highlights the problem of the death penalty in Florida and how our Catholic faith responds to it.  Click on the link to view the document:   Death Penalty Brochure
Natural Family Planning:
Celebrate and  reverence God's vision of human sexuality
Discover Natural Family Planning
The Church teaches that the sacrament of marriage symbolizes Christ's relationship with His Church.  What is this relationship but one of generous, self-sacrificing passion-filled and fruitful love!  When couples live their vocation according to Church teachings, especially with regard to the transmission of life, many benefits can be reaped.  Indeed, married couples who use Natural Family Planning (NFP) report that the benefits include: better communication between spouses; deeper understanding of each other's bodies and consequent growth in respect and awe of God's gift of fertility; growth in patience and emotional maturity; growth in understanding of the supreme gift of children; and growth in holiness as they seek to place God as the head of the household.
For more information visit:
http://www.orlandodiocese.org/flo-natural-family-planning
http://www.usccb.org/issues-and-action/marriage-and-family/natural-family-planning/