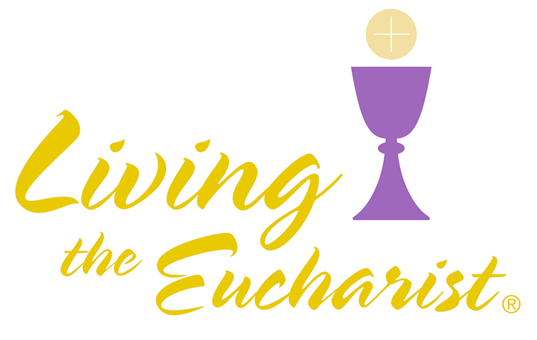 As Lent approaches, our parish is preparing for Living the Eucharist. This spiritual renewal experience will involve our parishioners in a number of special activities during Lent.  Bishop Noonan has declared this the "Year of the Eucharist" as the Diocese celebrates its 50 year anniversary.  This program is one of the activities that we will be participating in as a parish to celebrate this special year. Registration is closed. We can only guarantee books for those that have pre-registered.  Thank you
Fasting and Abstinence
Fasting is to be observed on Ash Wednesday and Good Friday by all 18 years of age and older who have not yet celebrated their 59th birthday. On a fast day one full meal is allowed. Two other meals, sufficient to maintain strength, may be taken according to each one's needs, but together they should not equal another full meal.
Abstinence is observed on Ash Wednesday, Good Friday and on all other Fridays of Lent by all 14 years of age and older. On days of abstinence no meat is allowed.
Remember: If your health or your ability to work would be seriously affected, fasting or abstinence does not apply. If in doubt please speak with one of our Priests or Religious Sisters.
Lenten Prayer & Reconciliation Opportunities
Feb. 14th – Ash Wednesday – No Reconciliation
Friday, Feb. 16th – Fr. Gaitley in the Church.
Saturday, Feb. 17th – Reconciliation 3:30 – 4:30pm
Wednesday, Feb. 21st – Reconciliation 7 – 8pm
Friday, Feb. 23rd –  7pm Stations of the Cross and Reconciliation until 8:30pm
Saturday, Feb. 24th – Reconciliation 3:30 – 4:30pm
Monday, Feb. 26th – Reconciliation 7 – 8pm
Wednesday, Feb. 28th – Reconciliation 7 – 8pm
Friday, March 2nd – 7 pm – First Friday Mass followed by Stations of the Cross and Reconciliation until 8:30pm
Saturday, March 3rd – Reconciliation 3:30 – 4:30pm
Wednesday, March 7th – Reconciliation 7 – 8pm
Friday, March 9th – 7pm Stations of the Cross and Reconciliation until 8:30pm
Saturday, March 10th – Reconciliation 3:30 – 4:30pm
Monday, March 12th – Reconciliation 7 – 8pm
Friday, March 16th – 11am Stations of the Cross for Seniors, 7pm Stations of the Cross and Reconciliation until 8:30pm
Saturday, March 17th – Reconciliation 3:30 – 4:30pm
Monday, March 19th  – Reconciliation 10 – 11am
Wednesday, March 21st – 7pm Living Rosary – Reconciliation until 8:30pm
Friday, March 23rd – 7pm – Stations of the Cross
and Reconciliation until 8:30pm
Saturday, March 24th – Reconciliation 3:30 – 4:30pm
Holy Week
Monday, March 26th – Reconciliation10 – 11am
and 7 – 8pm
Tuesday, March 27th – Reconciliation 7 – 8pm
Wednesday, March 28th – Chrism Mass at the Cathedral. (Please note: no Reconciliation)
Holy Thursday, March 29th – No Daily Masses
7pm – Mass of the Lord's Supper
Good Friday, March 30th – No Daily Masses
10 – 11am  – Reconciliation;
3pm – Passion of the Lord; Veneration of the Cross
7pm – Stations of the Cross
Easter Mass Schedule:
Holy Saturday: March 31
– Blessing of Food – 12noon
– Easter Vigil: 8pm
(Please note no Reconciliation)
Easter Sunday: April 1
– 6:30am, 8am, 10am* and 12noon*
*Mass in our Church and St. Gabriel Life Center
(Please note: no 5:30pm Mass)