Annunciation Family Catechesis
"God always knocks at the door of hearts. He likes to do this. It comes from His heart. But, do you know what He likes best? To knock on the doors of families and find families that are united, to find families that love each other, to find the families that bring up their children and educate them and help them to keep going forward and that creates a society of goodness, of truth, and of beauty."   Pope Francis, September 29, 2015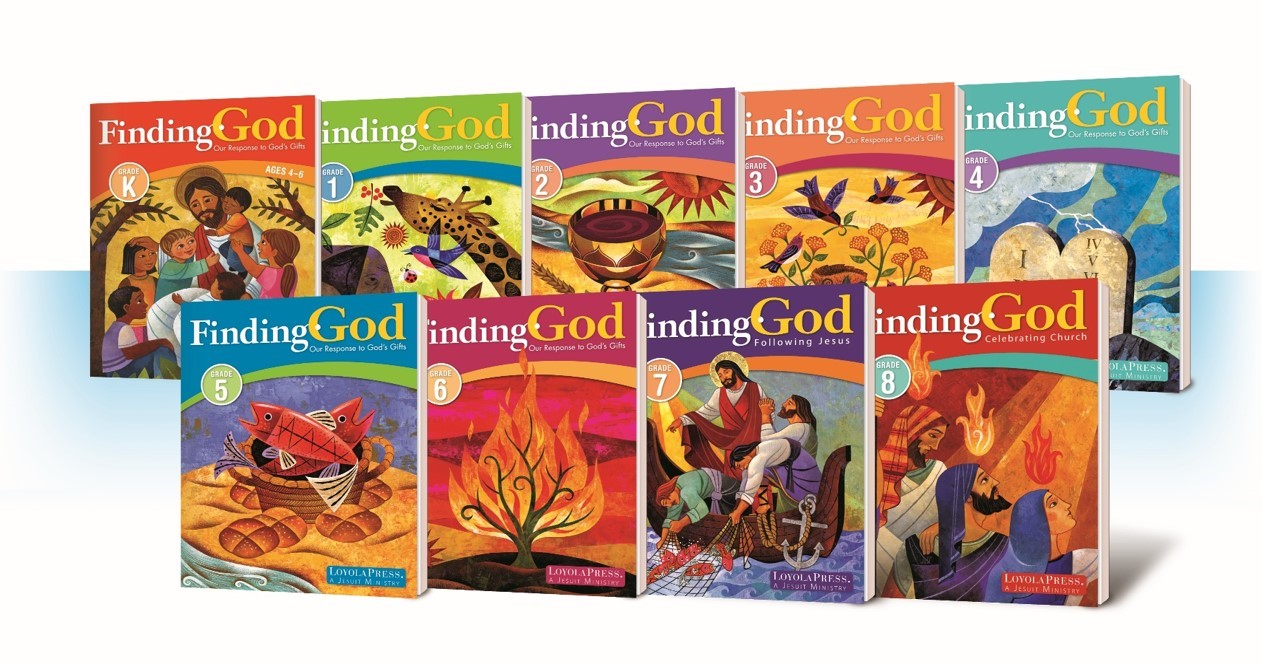 Finding God
Annunciation Family Catechesis uses the Finding God curriculum to combine parish-based group meetings (parent/guardian & child) and grade-specific instruction by trained catechists with at-home sessions guided by parents. Embodying the spirituality of St. Ignatius of Loyola, Finding God provides all the tools to engage the whole child – mind, heart, and soul – uniquely guiding children to practice prayer and reflection, to explore Scripture, and to find God in all things. The curriculum fully engages children and their families in the full teachings of the Catholic Church, inviting them to discover the beauty of their faith. The program guides children into a lifelong, prayer-centered relationship with God, allowing children to grow in faith. Finally, Finding God equips entire families to live out their faith, integrating Catholic teachings into everyday life and helping them to serve as disciples who take the Good News of Jesus into the world.
Annunciation Family Catechesis will meet the first Thursday or the second Monday of each month in the Nazareth Center at 6pm. Parent(s) and children will gather for light refreshments from 6pm-6:30pm. The children are then dismissed to a classroom to complete the first lesson of the monthly unit with a catechist.   The parent(s) will remain in the Nazareth Center to explore the monthly theme and deepen their understanding. The objective is to equip and support the parent(s) in their roles as the primary catechist to their children. The children will rejoin their parent(s) at 7:45pm for dismissal. Due to the current pandemic, we will begin the year virtually. Until conditions allow us to meet in person, parents and/or guardians will receive a virtual lesson aimed at catechizing them to enrich their child's faith. Each registered student will receive a Finding God workbook to complete with each lesson. Parents and/or guardians will also receive the first lesson of each unit for their child to complete virtually. The expectation is that you will teach the remaining lessons to your child(ren).
Families accepted into this program are expected to:
Attend monthly Family Catechesis meetings on either the first Thursday or the second Monday of each month, September-March. At least one parent/guardian and child(ren) are expected to attend.
Complete the remaining Finding God unit lessons and online activities at home.
Complete and return the unit assessment at the next monthly meeting.
2020-2021 Schedule
| | |
| --- | --- |
| Date | Theme |
| September 3 or 14, 2020 – 6pm | In Search of the Truth: God Reveals Himself to Us (Revelation/Scripture) |
| October 1 or 12, 2020 – 6pm | Jesus' Teachings  |
| November 5 or 9, 2020 – 6pm | Church – One, Holy, Catholic & Apostolic |
| December 3 or 14, 2020  – 6pm | The Coming of the Kingdom |
| January 7 or 11, 2021 – 6pm | Sacraments of Initiation |
| February 4 or 8, 2021 – 6pm | Conscience and the Commandments |
| March 4 or 8, 2021 – 6pm | Selfless Love – The Passion of Jesus  |
| May 5, 2021 – 5:30pm | Closing Mass, May Crowning, Dinner |