Faith Online
To help families and individuals to keep the faith alive, grow in relationship with Jesus and continue to observe this Easter Season, we offer families and individuals links and resources: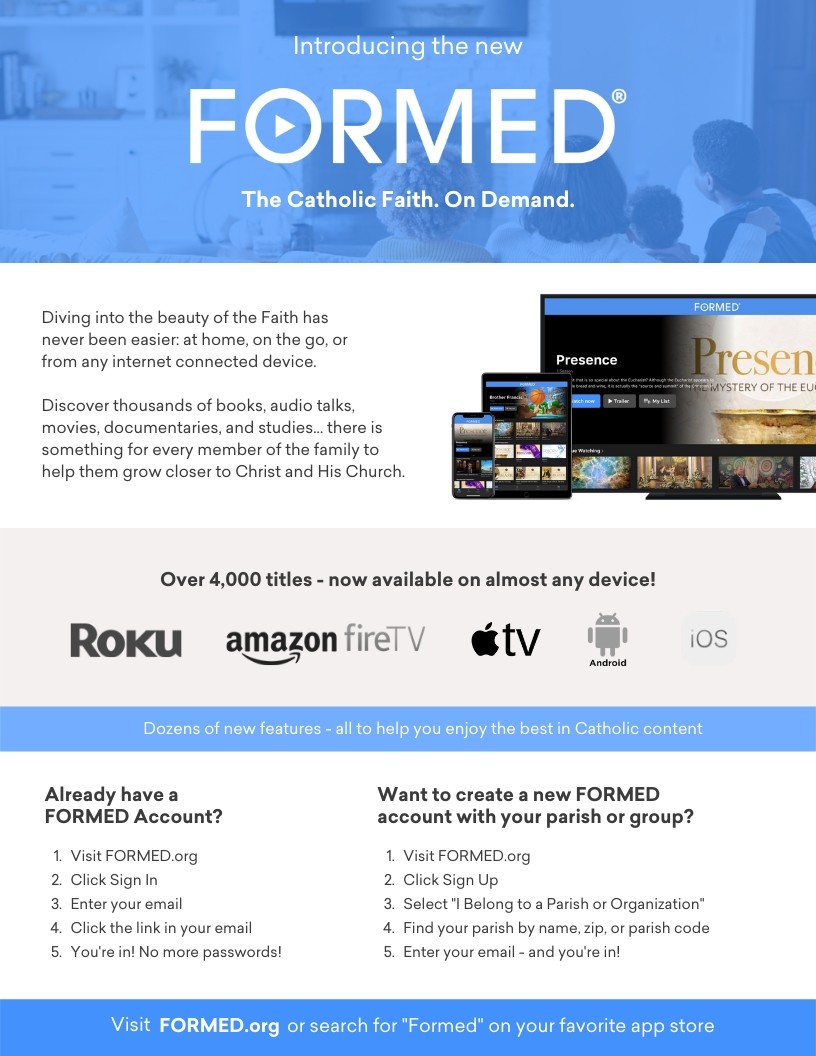 For Kids
Tiny Saints has published free printable activity sheets for families and children who are missing Mass, school and might be stuck at home. In a Facebook post, Tiny Saints wrote that its reasoning behind the move "is to help us all find a reason to smile and stay focused on Jesus, even when we might be tempted to worry." As of now, the company only has one free printable, but it plans to have more available soon.
Catholic Corner – Children's Bulletin: Yes, the same children's bulletins that you receive at Church are available for free as a pdf online! Visit: https://interlude.giamusic.com/catholic-corner-childrens-bulletin/
Catholic Sprouts: Catholic mom Nancy offers a mix of prayer, saint stories, Scripture, and daily living designed for kids and young families. https://catholicsprouts.com/Getting-Started
My Catholic Kids My Catholic Kids is offering free access to their children's video library during this time of national emergency. These videos help young children understand and engage with the Mass.
Saint Stories for Kids: Chantal Baros recreates saint stories, told in an engaging style and intermixed with sound effects for kids. https://podcasts.apple.com/us/podcast/saint-stories-for-kids/id1448514363
Good News Book Shop, based in South Florida, provides clean reads and faith filled books that will inspire youth to read more, laugh more, learn more, and grow in their faith and relationship with God each day. https://goodnewsbookshop.com/
See additional resources below in the For Families section.
For Teens and Twenty-Somethings
For Families
San Pedro Center – Free at Home Retreat – A retreat is an opportunity to draw away from the world for intentional time of prayer and reflection. In our web-based retreats, you decide when and where you pray. It's all online and free all the time! You don't need to finish in one sitting—just remember where you left off and come back to it. Grab a journal and your favorite pen, and let's begin. Visit: https://www.sanpedrocenter.org/spiritualresources 
52 Sundays is a dynamic guide for families to keep the Lord's Day holy, including family prayer activities, devotions and meals.  The guide is intended to augment Sunday Mass participation, but is also a great resource for families unable to attend Mass. Printed copies of the 52 Sundays guidebook are sold out, but families can sign up for email updates and download a free digital guide here. (Archdiocese of Detroit)
www.FamilyRosary.org – click on the "Resources" tab and you will find eBooks, Rosary instructions and Rosary app, and Daily Prayer Reflections and much more. At the top you'll find a link to our Blog where you will find our Daily Homilies and much more. During these challenging times, you can join us LIVE for Rosary and Mass starting at 11:30 am ET Monday through Friday on our Family Rosary Facebook Page.
Loyola Press
Offering complementary student editions of both our Christ Our Life and Finding God religious education programs. This digital subscription will make student books available for free until 6/30/2020. You can request access by contacting our customer service department at 1-800-621-1008 with the number of students who need access in each grade.  Each program has a series of online resources that can support parents' efforts to catechize their children outlined below.
Christ Our Life home resources can be found at www.christourlife.com/family.
At-Home Editions: These guides allow parents to conduct catechesis with their children in the home.
Interactive Chapter Reviews: Chapter reviews allow children, parents, and instructors to gauge learning objectives. Results can be emailed to a teacher or catechist along with student questions.
Study Guides: Single page study guides outline important faith topics in each chapter.
Faith Filled Games: Games such as Stump the Shepherd, Jesus' Jigsaw, and Seek the Word allow children to continue to explore their faith no matter where they are.
Finding God at-home resources can be found at www.findinggod.com/family.
At-Home Editions: These guides allow parents to conduct catechesis with their children in the home. For families with children in multiple grades using Finding God, utilize this Parent Quick Guide.
Interactive Session Reviews: Session reviews allow children, parents, and instructors to gauge learning objectives. Results can be emailed to a teacher or catechist along with student questions.
Study Guides: Single page study guides outline important faith topics in each session.
Raising Faith Filled Kids: For parents who may not have the time or confidence to teach a full lesson, this resource provides background on the session and encourages parents to discuss faith topics with their children.
For resources that deal directly with the current pandemic, Loyola Press has developed a special Growing with God lesson for Covid-19. The lesson can be accessed here and includes parent/teacher pages, student worksheets, an animated video, and an additional lesson resource.
For Everyone
Free Prayer and Mass Texts for March and April: View Give Us This Day online at no charge for March and April. This resource includes brief daily Morning Prayer and Evening Prayer, inspirational lives of saints, daily Mass texts, and reflections. Click here to read the issue online or download it to your computer. Also, in light of the fact that many are unable to attend Mass, Magnificat is offering complimentary access to the online version of its prayer book. Magnificat includes the daily liturgy, saint of the day, spiritual reflections and prayers.
Nextstep is a fairly new Catholic discipleship guide that helps you grow in your faith.  Currently, their program of steps is totally free. Each step is designed to be finished in two weeks or less.
Praying and Reflecting on the Sunday Gospel: To view a "Question of the Week" that centers on the Sunday Gospel for youth, young adults and families, click here.
MAGNIFICAT is providing temporary, complimentary access to its online versions of its daily prayer resource in English and Spanish.
eBreviary: A temporary webpage is available for downloading a printable PDF for the Liturgy of the Hours each day. Click here to view/download.
Resources from the Diocese of Orlando
There will be no print editions of the Florida Catholic for the month of April. Instead, Florida Catholic will offer the digital editions of the paper free of charge. Visit https://thefloridacatholic.org/ each week to stay on top of news during this ongoing, global crisis.
Click here to join a Lenten retreat journey from San Pedro Center. This includes a new at-home, on your own pace retreat titled "Peace in Pandemic Times," as well as other spiritual resources for download. The retreat contains the lectio divina. In the free downloads section, they've included the Stations of the Cross meditations.
Click here to visit the Diocese Orlando complete page of resources.
Resources from the USCCB
Prayer Resources: http://www.usccb.org/coronavirus
Daily Readings: http://www.usccb.org/bible/readings