Corona Virus – COVID-19 – Parish Update
Click on the image below for the complete letter from Bishop Noonan regarding the suspension of Masses and Liturgies beginning March 19, 2020.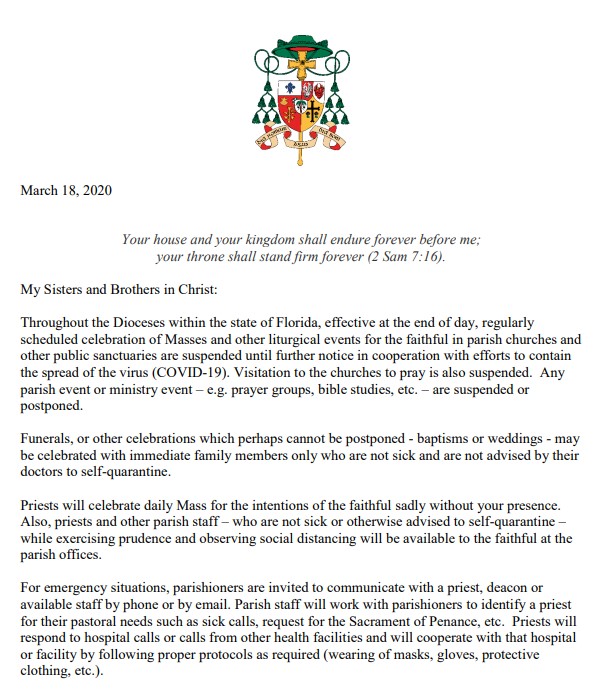 CORONAVIRUS FREQUENTLY ASKED QUESTIONS FOR THE FAITHFUL
Why were Masses suspended in the Diocese of Orlando? The outbreak of Coronavirus in the United States poses a particularly grave threat to the public health, particularly for the aged and other vulnerable populations.  Out of pastoral concern for all of the faithful and for our fellow citizens, like many Bishops in our country and around the world, including Pope Francis, Bishop Noonan felt it was prudent and necessary to observe the cautions of public health officials about limiting public gatherings. Spiritual solidarity in times of crisis is a way the Church serves its primary mission in the world, the salvation of souls.
Is the suspension of Masses unprecedented in the Diocese of Orlando? During the lifetime of most Catholics the suspension of Masses is unprecedented, but has happened. For instance, during the H1N1 pandemic of 1918 ("Spanish Flu") Churches were closed and Masses were suspended in the territory that was to become the Diocese of Orlando.
During the time in which public Masses are suspended in the Diocese of Orlando, are Catholics in the Diocese dispensed from their obligation to attend Sunday Mass?  Yes, the Bishop has dispensed the faithful of the Diocese and visitors present in the Diocese, from the obligation to attend Sunday Mass for as long as the suspension of public celebration of the Mass is in effect.
Does Bishop Noonan have the authority to suspend Sunday Mass and our Mass obligation? I don't want to commit a mortal sin. The Church's law anticipates that there will be circumstances when participation in the celebration of the Eucharist will be prevented because of a grave cause. Public health threats from epidemics have been considered a grave cause throughout the Church's history. Therefore, the Diocesan Bishop can determine that a grave cause exists which prevents the faithful from attending Mass and give directives on how the faithful ought to observe the Lord's Day in appropriate ways. It is not a sin to miss Mass during this period.
Where can I watch Mass now that there are no public, in-person options?
Click here to visit our YouTube page for all of our live-streams.
Do I have a moral obligation to watch one of the Masses that are being livestreamed or recorded on social media, websites, and television? While you are encouraged to find ways of listening or watching Mass, your obligation is to observe the Lord's Day as Holy and celebrate your faith in Christ by drawing upon the Church's rich spiritual tradition of prayer and devotions. Suggestions for other ways to observe the Lord's Day during the suspension of Mass can be found on our Parish Resource page at www.annunciationorlando.org/faith-online
How should Catholics respond to the Coronavirus?  Catholics should intensify their prayer and follow the guidance that is issued for the common good. Also, by phone or virtual means, Catholics who are self- distancing should sustain the bonds of family, friendship and neighborhood so that none of our brothers and sisters feel abandoned.
What can my family and I do at home if we're not attending Mass? Families can watch or listen to celebrations of the Mass broadcast by livestreaming, TV, and radio. As Fr. Parkes mentioned in a recent homily, the goal is to still make Sunday a Holy Day – setting aside time for prayer and for quiet time with the Lord. Perhaps this is also a time for you and your loved ones to develop new and additional devotions (Rosary, Divine Mercy, Lectio Divina, etc.).  For additional ideas, please visit www.annunciationorlando.org/faith-online.
What do I do with my regular contribution envelope? I want to continue my contribution to our Parish, how do I do that online?  Thank you for your interest in continuing to support our parish community. You may mail your contribution to the Parish Office. Our address is Annunciation Catholic Church, 1020 Montgomery Rd., Altamonte Springs, FL 32714. If you wish to contribute online, please visit our online giving portal by clicking here. If you have not set up an online account before, just click on the "Create a Profile" button to get started. If you have any questions, please contact our Parish Office at 407-869-9472.
Is the Parish school closed? On Monday, March 30th the School will move to a virtual learning format through April 15th and we will continue to follow the directives from the Diocese of Orlando Office of Schools.
Is the Parish Preschool closed?   Effective at the close of business tomorrow (Friday, March 27th), the Preschool will temporarily suspend operations.
Is the Parish Office open? We have suspended public Parish Office hours. We will continue to be available via phone at 407-869-9472 from 8am to 3pm, Monday through Friday and also via email. Click Here to visit our Parish Contact page for email links. Our Bookstore operation is suspended until further. The Grotto will remain open 8am – 8pm Monday to Saturday and 10am – 8pm on Sunday.
Outreach – How are we continuing to help those in need during these difficult financial times? Due to your previous generosity during our Parish Food Drives, we have been able to continue distributing food through our St. Vincent DePaul Ministry and through our partnerships with our local schools. If additional needs arise and if resources can be obtained, we will reach out with an online food drive in the coming weeks. In need of assistance?  Please contact our Society of St.Vincent dePaul  at 407-215-7669 or by email: svdp@annunciationorlando.org
How do Church closures affect other Sacraments, specifically the Sacrament of Reconciliation during Lent? I'm concerned since I thought Catholics are supposed to make a good Confession before Easter. As always, Catholics in need of confession are encouraged to make a sincere Act of Contrition and promise to make a good confession as soon as possible. An Act of Contrition and Examination of Conscience can be found at www.annunciationorlando.org/how-to-go-to-confession. You may call our Parish Office at 407-869-9472 to make an appointment for Confession if you feel an emergency need at this time or if there is the danger of death.
What about Confession or distribution of the Eucharist in the parking lot while I remain in my car? Any type of scheduled service or event is discouraged at this time in order to slow the spread of the Coronavirus.  Confession or distribution of the Eucharist in the parking lot would require a scheduled event to take place.  We need to be sure that our high-risk and vulnerable populations are not exposed to the virus through large group interaction.
If my loved ones need Anointing of the Sick, who should I call? Will a Priest be able to visit hospitals, nursing homes, etc.?  The Anointing of the Sick ought to be requested only for those who have not been previously anointed and are in danger of death. Priests will attend the dying as able based on the directives of our local hospitals and nursing homes (i.e. wearing gowns, mask and gloves as directed by medical professionals). Please call our Parish Office at 407-869-9472.
What if a loved one dies? Can I still have a funeral Mass?  Funerals can be celebrated with immediate family only present. Families should contact our Parish Office at407-869-9472. The guidance about limiting gatherings will be observed.
What about weddings?  Weddings can be celebrated. Couples should work with our Staff to determine the most prudent means to do so or to postpone or reschedule. The directives regarding limiting gatherings will be observed with immediate family only present.
My child is scheduled to receive the Sacrament of Confirmation this spring.  Will that still occur? Confirmations may be postponed. If postponed, we will let you know when they will be rescheduled.
My child was scheduled to be baptized during this time, now what? Unless there is an emergency situation, celebrations of Baptism will be postponed.  Please contact our Staff if you are concerned about an upcoming scheduled date.
What about First Eucharist? First Eucharist may be postponed. If postponed, when information is available and we are able to reschedule we will inform our families.
I'm currently in the RCIA process and I have been looking forward to my full entrance into the Catholic Church at the Easter Vigil. Is that postponed? Yes, it has been postponed.  The Elect who are to be baptized will be received into the Church as soon as we are able to open our Churches for public celebration of Mass.
Are any ministry meetings, Faith Formation classes or other events taking place on campus?  All ministry meetings, group activities and parish events are suspended until further notice. This includes Traditional and Family Catechesis, Youth Ministry meetings and events and all Adult Faith Formation meetings and classes.