The Chapel of the Angels has been blessed by Bishop Noonan. We hope to have a schedule soon for Adoration to resume.
A word of thanks and gratitude to our Lord and to our Lady and to you.  Thank you Lord for the gift and fruitfulness of our Mother Mary, adoration and prayer.  Thank you all for the gift of your patience and prayer so graciously offered during our Chapel of the Angels renovation project.  What a gift – what a blessing.  God inspires beauty, goodness and truth.  He draws us close, ever closer in adoration and prayer.  The prayer answered and the holy inspiration received was to bring into the existing chapel the lines, materials, colors, architecture, and character of our Church into our Chapel allowing the worship space from the main church and sanctuary to overflow as a peaceful river into our chapel space. Praise God for hearing our prayer and helping us to receive his grace.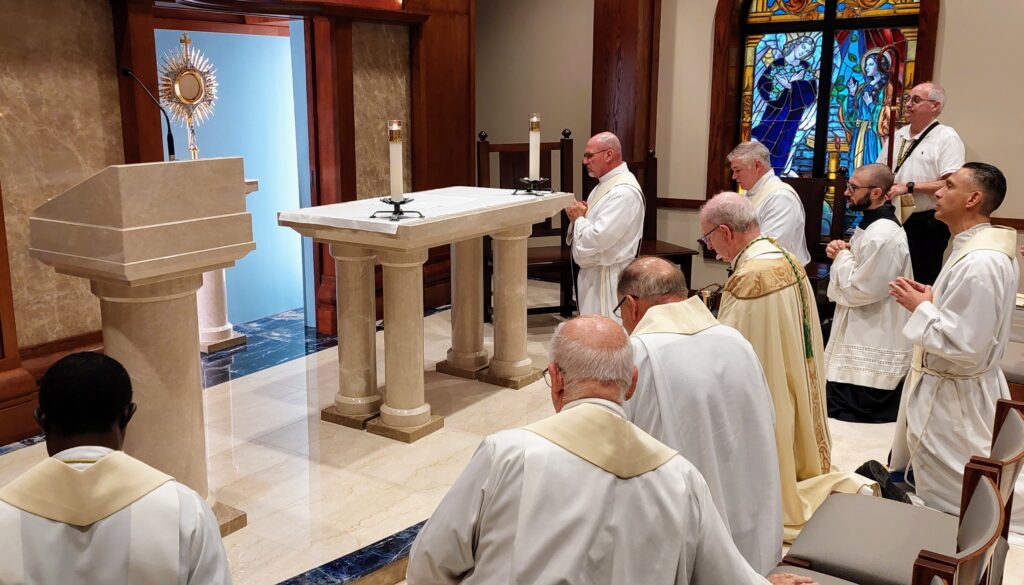 Update – May 28, 2023 – The Chapel of the Angels Renovation is coming to a conclusion. Next weekend, we will announce an opportunity to view the completed work and then a schedule for Eucharistic Adoration.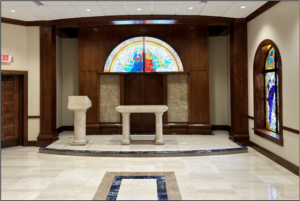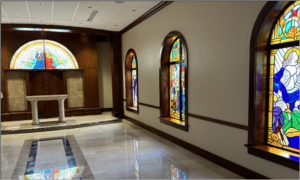 Update – March 8, 2023 – The Remodel Project is continuing on schedule. In the photo above you can see some of the flooring that was installed this past week. Thank you for your continued prayers.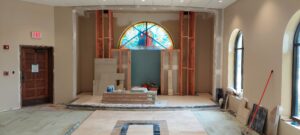 Chapel of the Angels Renovation. See video below. Thanking God for giving us His vision to become a people of great prayer.
Our Chapel of the Angels Renovation begins on January 4, 2023. Eucharistic Adoration will not be available during the renovation in the Chapel of the Angels. Starting January 4th, we will offer Eucharistic Adoration in the Church on Wednesdays from 1pm to 5pm during the renovation (Church schedule permitting). The last day for Adoration is Wednesday, December 21st. Thank you for your prayers as we create a sacred space available for Adoration of our Lord.