Construction Update
Please pray for a smooth transition as we prepare to move back into the Church beginning with Mass at 5pm and 7pm on Saturday, December 23rd. Please check for any changes to the schedule on our website.
Eucharistic Adoration will remain in the St. Gabriel Life Center until further notice.
Christmas is a busy time as we welcome guests and visitors to our parish. Please think about ways that you can "Welcome the Stranger" and be prepared to serve others in this transition. We thank you in advance for your patience and understanding and look forward to celebrating the Fourth Sunday of Advent and Christmas in our Church.
---
The St. Gabriel Life Center will be our temporary Church starting with Daily Mass on Saturday, July 8th until December of 2017.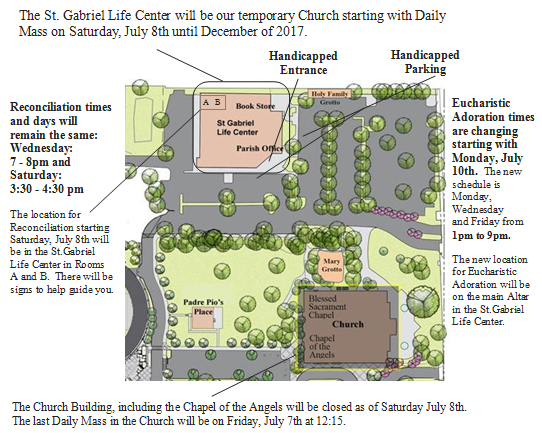 In Matthew 18 we are reminded of the Lord's presence where two or three are gathered in His name.  God's presence is with us in the temporary worship space through the Real Presence in the Tabernacle, the proclamation of His Word and in the community gathered.  Thank you for maintaining a spirit of reverence and prayer in the St. Gabriel Life Center and for receiving His Holy Presence so that you can share the Good News throughout the week!
The main entrance is the two sets of double doors nearest the Parish Office that face towards
Montgomery road.  There is a handicap ramp both inside and outside for those that need special assistance.
Restrooms are located off the corridors both at the entrance to the worship space and behind the altar.  The doors at the far sides are open so please feel free to use the back restrooms if necessary.
Reconciliation Rooms are located in Rooms A and B.  Signs will be posted to help you locate the Reconciliation Rooms.  The times remain as regularly scheduled:  Wednesday from 7pm -8pm and Saturday from 3:30pm to 4:30pm and available face to face only.
A projector is located on the Choir Side of the worship space.  If you are sitting on the other side of the room and are not able to see, please take a hymnal from the cart near the entrance.  If you take one, though, please be sure to return it at the end of Mass.
During the Eucharistic Prayer, our posture will be to stand as there are no kneelers.  If you are not able to stand then please feel free to sit.
Special Communion Concerns
Lo-gluten hosts: We have lo-gluten hosts available for those who need these special hosts.  If you or a family member need one, please see a Sacristan to request the host and get directions as to where to go to receive at Communion time.  Please try to request a lo-gluten host at least five minutes before the start of Mass.
Communion for those with mobility concerns: The front row of each section of seats will be served Communion at their seat for Sunday liturgies.  If a person with mobility concerns is seated in another row and cannot come out for Communion, please let an Usher know, so that they can bring the EMHC in that section to give Communion to that person.  During the week, please sit in the front row of the center section if you would like Communion brought to you or let the Sacristan know you need Communion brought to you if you sit in another area.  Thank you!