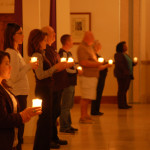 Our next Living Rosary is scheduled for Wednesday, December 12th at 7pm in our Church.
Songs of Mary will be included in our Living Rosary prayer, sung by our combined adult choirs!
Come enjoy this beautiful, prayerful evening!  All are welcome.  If you would like to participate as a candle holder or reader please use the sign-up sheet below.  Thank you!
---
Sign Up
You are signing up for...
Candle Holders - Please arrive at the Church at 6:30pm to check in. on March 21, 2018
If you have an account, it is strongly recommended that you login before you sign up so that you can view and edit all your signups.