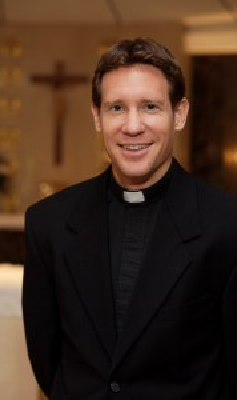 Join Fr. Michael Gaitley, MIC, author of 33 Days to Morning Glory, for an inspiring Mercy & Mary Retreat Feb. 16 & 17, 2018 at Annunciation Catholic Church! Includes five conferences with Fr. Gaitley, coffee and donuts, lunch, Retreat Mass, Benediction, The Chaplet of Divine Mercy and more! All proceeds from this event support young men and women discerning vocations and working with the homeless. New Rate — Only $49.95!
7:15 p.m. – 8:15 p.m. (Friday, February 16) and 8:00 a.m. – 4:30 p.m. (Saturday, February 17)
Your Mercy & Mary Retreat Includes:
♦  5 Conferences with Fr. Gaitley:
— Personal Testimony: Now is the Time of Mercy
— St. John Paul II: Fatima and the Great Mercy Pope
— St. Maximilian Kolbe: Mary's Instrument of Mercy
— St. Thérèse: The Way of Merciful Love
— Your Role in this Time of Mercy
♦  Retreat Mass
♦  Chaplet of Divine Mercy
♦  Adoration & Benediction
♦  Book Signing with Fr. Michael Gaitley
♦  Coffee and Donuts
♦  Lunch with the Marian Missionaries
♦  And more!
For more information and to register visit Events.MarianMissionaries.org or call 413.944.8500 Ext. 10.
Our Parish is the host for this retreat.  The Marian Missionaries are handling ticketing for the event so visit their event website for tickets and details.  Thank you!
Retreat Details (Retreat times subject to change) – This retreat begins on Friday evening, February 16, 2018 with Fr. Gaitley's first conference. The conference will begin around 7:15 p.m. (participants will be notified of exact times) and it will be the only event of the evening.
• 8:00 a.m. Retreat Mass
• Retreat Check-in/Registration/Coffee and Donuts
• Conference #2
• Break
• Conference #3
• Lunch Break & Fr. Gaitley begins Book Signing
• Personal Testimonies – More about the Marian Missionaries
• Conference #4
• Break
• Adoration/Chaplet/Benediction
• Conference # 5
(4:30 p.m. Retreat Officially Concludes)