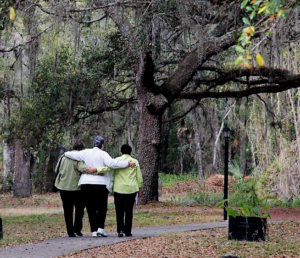 The Emmaus Retreat is for women who are looking for a way to grow their faith and mature as disciples of Christ. It is an opportunity to give yourself the gift of time, time to truly reflect on your faith, time to renew and strengthen your conscious union with God.  For two days at Emmaus, your focus is on the love of God. It will inspire and challenge you to look deeply into your soul, and bring you the graces needed to unleash your spiritual potential.
Join us for our next Women's Emmaus Retreat!
When: June 8, 9 and 10
Where: San Pedro Retreat Center (Winter Park)
Starts: 5pm – Check-in, June 8th by the Grotto.
Ends: 5:30 pm Mass, Sunday, June 10th.
This weekend is open to all women 18 years old and older.  There is a registration donation of $125. If this fee is a burden do not let that stop you from coming! We have donations to help cover the cost. For more information please contact Karen Salgado at 407-731-3168, annunciationwomensemmaus@gmail.com
Click on the application link below.  Thank you!