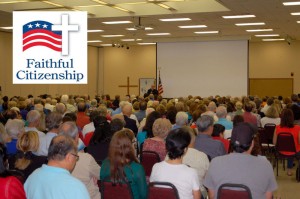 Over 500 in attendance to listen to
Most Reverend John Noonan, Bishop of the Diocese of Orlando will present Faithful Citizenship: Forming Your Conscience in an Election Year.
Kathy Saile, Director of Domestic Policy, United States Conference of Catholic Bishops (USCCB) will present: Faithful Citizenship: Political Responsibility &Protecting Human Life and Dignity.
Michael Sheedy, Associate Director for Health, Florida Catholic Conference (FCC) will present: State Voter Education and Amendments 6 & 8.