Dear Friends in Christ,
After Mass Fellowship returns this weekend after a short hiatus during the summer months.  In honor of the 20th Anniversary of the construction and opening of the Child Care Center, Cultural Center and Gymnasium we will offer snacks in the Child Care Center Cafeteria.  Over these past twenty years, these buildings have been an integral part of the life of our parish for all ages.  The children who attended the Child Care Center as infants in 1992 are now well into college or other paths.  The Cultural Center has been a hub of activity since opening, specifically concentrating on the gift of formation in our Catholic faith and spiritual growth.  The Gymnasium has provided a place for physical exercise as well as a wonderful community gathering place.  The construction of this complex of buildings was made possible by a campaign called Project HOPE.  As we look to the past please join me in giving thanks for the ministry that has taken place there.  As we look to the future may we continue to find great hope in the gift of our Catholic faith!
Speaking of construction the photo at right tells the story of the progress of the Track and Field project.  As you can see we are well on our way to the transformation of this part of our campus.   Thank you for your support of the Alive in Christ Capital Campaign which is making this construction possible.  When complete, the Track and Field will be a blessed addition to our campus and used by our entire parish family.  Thank you also for your patience and attention to safety as we continue to reconfigure the road system around our campus.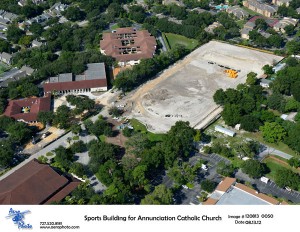 When you come before the Lord this week, please whisper my name (and the names of our Clergy and Religious Sisters) to the Almighty.  Please pray that we can be the servants you need.  Know that we will pray for you, your loved ones and your intentions.  We may not see each other each day but may we meet each day in our prayers!
In Christ,
Very Rev. Stephen D. Parkes, V.F.
Pastor