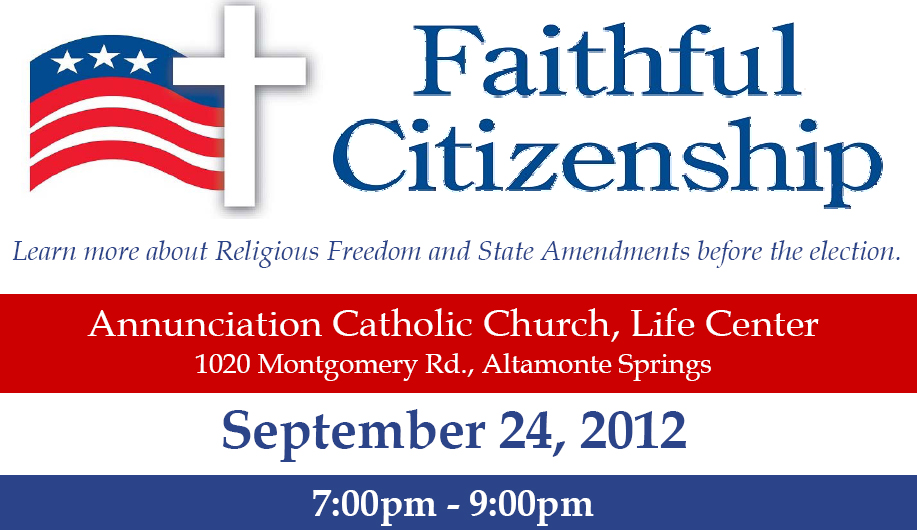 A presentation with Bishop John Noonan.
September 24, 2012 7:00 pm – 9:00 pm
Annunciation Catholic Church, Life Center
The Church's obligation to participate in shaping the moral character of society is a requirement of our faith, a part of the mission given to us by Jesus Christ.
As people of both faith and reason, Catholics are called to bring truth to political life and to practice Christ's commandment to "love one another" (Jn 13:34).
We are called to bring together our principles and our political choices, our values and our votes, to help build a better world. At times Catholics may choose different ways to respond to social problems, but we cannot differ on our obligation to protect human life and dignity and help build through moral means a more just and peaceful world.
Speakers include:
Most Reverend John Noonan, Bishop of the Diocese of Orlando will present Faithful Citizenship: Forming Your Conscience in an Election Year.
Kathy Saile, Director of Domestic Policy, United States Conference of Catholic Bishops (USCCB) will present: Faithful Citizenship: Political Responsibility &Protecting Human Life and Dignity.
Michael Sheedy, Associate Director for Health, Florida Catholic Conference (FCC) will present: State Voter Education and Amendments 6 & 8.
For more information or to RSVP, contact: Office of Advocacy and Justice 407-246-4819
For information about religious liberty, click here to go to the Diocese of Orlando Religious Liberty page.